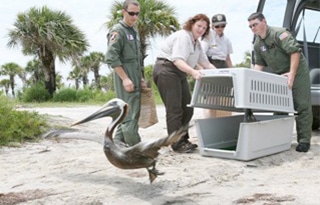 Volunteering is Great, But Protect Yourself!
Thirty miles south of New Orleans, in Breton Sound, the U.S. Coast Guard has pulled commercial fishing boats from oil cleanup efforts after several people became ill.

Crew members on three vessels reported nausea, dizziness, headaches, vomiting and chest pains.
Doctors believe that the symptoms are due to the effects of dehydration (from long hours of work and outdoor exposure), from breathing toxic air, chemical irritation and from systemic chemical toxicity.
The culprits, of course, are the combined effects of the oil spill as well as the chemicals used to break up the oil as it reaches the ocean surface.
If you have volunteered to help with the cleanup or would like to know more on how to protect yourself and your Gulf Coast friends, check back here in a few days. I'll be preparing a detailed plan for protecting anyone who may be exposed.